Welcome to my Audi TT Quattro site!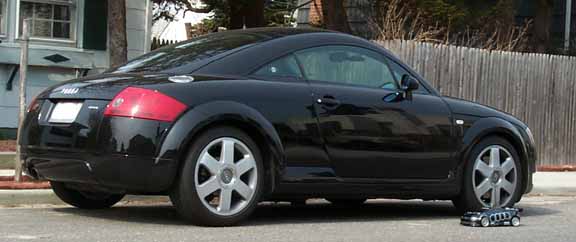 I am throwing this together as fast as I can. I want everyone to be able to see the modifications that I have done to my TT since I got it.
I have updated quite a bit. I have added some pictures and quite a bit of detailed information about my stereo, including a flowchart for the install!
8/06/2000: Sorry for the delay in updating this site on a more timely fashion. Tripod had a site size of 11mb and I filled that up way back in May! Tripod has now upped the site size to 50mb and I should be good for at least another year. I rearranged a few areas and added a NEW page called Accessories area to try and put like items together.
| | |
| --- | --- |
| | I have been to 3 QCUSA Drivers Schools since I last updated the site and have added quite a few extra "mods" to the car. |
| | I bought a Yamaha WaveRunner and will be adding some information on that. This is one of the reasons for the delay in my getting this site updated as well. |
| | I have FINALLY found someone and she just so happens to have the same interests as me! :) I met her through AudiWorld. It was not an intentional hook-up, it just was a nice pleasant surprise! |
| | I will be adding more each day as I slowly get my act back together. I have a few events to add along with various mods I have done. |
| | I promise to have my R/C Pictures up this week too. :) |
Keep coming back and I will have more for you each time, I promise!
5/10/2000: Sorry, but Tripod has been having trouble with my website! I am not too happy about it either. Hopefully it will be up and running very soon! Please bear with me.
5/1/2000: I added the pictures from the Northeast Audi Spring Bash from Look Memorial Park and the Yankee Candle Museum.
4/20/2000: I rearranged some of the pages under a NEW page called TT Tuning.
| | |
| --- | --- |
| | Added pictures from the South East TT Club of America Rally in Highlands, North Carolina. |
3/31/2000: I added a few more things.
| | |
| --- | --- |
| | I added a new page called My Audi TT... it contains EVERYTHING that I have done to my car, plus ALL future mods I am planning! |
| | I updated my links page a little. |
| | I will be adding race results from Englishtown auto-x this weekend! Coming Soon! |
3/30/2000: More Pictures added!
| | |
| --- | --- |
| | I added the Borla picture for my TTQ! :) |
| | Added a few more pictures to my Stereo. |
| | Added more suspension pictures. |
| | Detailed Borla findings Coming Soon! |
| | Letter I am sending to Alex Borla of Borla Performance Coming Soon! |
3/27/2000: I have added the following and also updated some areas.
| | |
| --- | --- |
| | Added Borla installation pictures |
| | Updated the Stereo Pictures by adding 3 more at the bottom. |
| | I also added some pictures of Race Numbers I am going to be using this coming Auto-X and Time Trial/Drivers School Season. These are in the Racing Stuff area. |
3/16/2000: I have now added detailed information on the following:
| | |
| --- | --- |
| | Chip Installation with pictures |
| | Suspension with pictures |
| | My R/C Cars, pictures will be coming shortly |
Let me know what you think.
This page was last updated on 08/06/00.