I actually forgot to take a picture of the stock valve while it was installed in the car! lol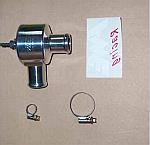 These are all of the pieces that are needed to install the valve. The valve came with two high quality zero clamps and an AWE Racing sticker!

Close-up of the Bailey Valve
Comapring the Bailey with the stock valve
The Bailey installed in the car.